We Wan Chu Cottages in 2020…
We Wan Chu Cottages
invites you to experience Chautauqua Lake's Finest Cottage Resort. We are located on over 8 & ½ acres of Lake Front Property with more than 470 feet of Sandy Bottom lake frontage. We offer 1, 2, 3, 5 & 6 Bedroom Cottages that are Clean, Modern, Heated and Completely Furnished. We have 11 duplexes that equal 22 of our 31 Cottages. Nine of these duplexes are in a large horseshoe configuration. They come up the side of the property from the lake, across the middle and down the other side. We also have three individual cottages, four apartment-cottages in one building and two adjoining lakefront cottages. Thirty of our thirty-one cottages have a Wooden Deck with a Sweet View of the lake from twenty-six of them.
Free Wi-Fi.
NO PETS ALLOWED.
Air Conditioning

in each Cottage & Country Chalet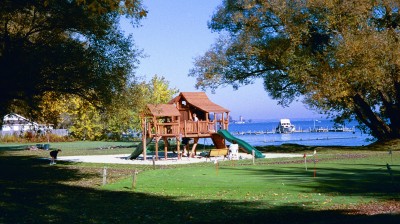 Our Pool building, also known as a Natatorium also includes a Laundry Mat with coin operated washers and dryers…
All Cottages come with:
• Kitchens with stove, refrigerator, microwave oven, automatic drip coffee maker, toaster, pots and pans, dishes and silverware.
• Bed linens and pillows are provided; Color TV, charcoal grill, picnic table.
• Natural Gas Heat in All of the Cottages…
•

Our Customers

need only bring Bath Towels, Wash Cloths, Beach & Pool Towels, Paper and Soap products, their own sharp knives and their favorite frying pans, etc, charcoal and food for their stay here at We Wan Chu Cottages.
Vessel Policy:

Boats up to 21 foot: $15 per boat and trailer per day or $35 per boat and trailer per weekend or $ 70.00 per Boat and Trailer per week.
Boats 22 ft. – 26 ft. max are $30 per boat and trailer per day or $70 per boat and trailer per weekend or $100 per boat and trailer per week.
Kayak, Canoe, SUP & Windsurfing Board: $ 10 per Day, $ 15 per weekend or $ 20 per Week. Fee is applicable if Vessel is onsite.
Our modern Dock Area has over 70 boat slips and is lit up all night and includes power for boat charging needs. A fantastic fishing wing (dock) for your fishing appetite, a beautiful Sandy Bottom Swimming Area (seasonal) with a 50 x 16 Ft. Children's Sandbox for the Young and Old alike.
Property features includes a nightly lakefront Bonfire to warm your heart & sole at, weather permitting. We have a huge Children's Sandbox at the Children's Beach where the children can Swim and Play and a Children's Playground… Out near the end of the Dock and within our Swimming area is a large floating swim platform (early June – mid September) where the older kids and grownups can swim and play. The lake area in front of We Wan Chu Cottages has a beautiful Sandy Bottom which gradually drops off past the end of the dock. Our Swimming Area in the lake goes from zero to about four feet deep and is without a doubt, the Best Sandy Bottom Swimming Area that goes with any Cottages or Condominiums on Chautauqua Lake… A Putting Green, Recreation Room with ping-pong & foose ball tables, board games, horseshoe pits, sand volleyball court, basketball, swing sets and a large grassy play area.
Either way, we try very hard to make "Your Visit" an enjoyable one for sure. If your a Fisher person, the letters in our Fishing Guide should help You catch Fish along with the usual Great Fishing off of our Huge Dock Area.
If your a Golfer, our Putting Green should sharpen your skills a little bit better before You hit your Sticks on the Golf Course. And let us not forget the Big Picture, Chautauqua Lake is almost at your front door here at We Wan Chu Cottages.
All Cottages & Country Chalets
have Air Conditioning!
Chautauqua Lake is a Glacier Made Lake and is Spring fed along with a Few Creeks. It is One of, if not the Cleanest, Fresh Water Lake in New York State. Approximately 18 miles long and up to 1-1/2 miles wide with World Famous Muskie, Walleye, Small & Large Mouth Bass, Calico, and Perch Fishing. Fantastic Sailing Weather, Water-Skiing Waters, and Boats of all shapes and sizes make Chautauqua Lake already a Favorite of so many. Located only one & 1/2 hour drive from Buffalo, NY; two & 1/2 hours from Cleveland, OH and Rochester, NY and three hours from Pittsburgh, PA and Toronto, Canada,
There are many nearby area attractions including:
Chautauqua Institution – a truly unique summer center offering unusual programs including pop concerts, plays, movies, opera, symphonies, lectures, religious activities, exhibits, summer school, and supervised programs for children of all ages.
Golf Courses – Two within one mile and five within eight miles.