I learned while doing a Bigfoot Show in Cleveland, Ohio January 15th, 16th & 17th, 2016 and from talking with attendees, that Bigfoots / Sasquatch will never be included to an Endangered Species list because it would decimate the Timber / Logging / Lumber Industries like it did with the spotted owl out west in 1990. The US Government will never acknowledge the existence of these bi pedal animals because by doing so recognizes it being a rare animal which then would kick in the Endangered Species Act of 1973 signed into law on December 28th, 1973 by President Richard M. Nixon.
In recognizing its habitat being Woods / Forests & Swamps. We would then need to protect those woods and end up having to import almost all of our Timber /Lumber from Canada and elsewhere, quadrupling or more the cost of building a US Home, tanking the Banking Industry which write home loans and un employing millions of contractors, electricians, landscapers, loggers, truckers and a lot more (restaurants, gas stations, hotels, and a lot more). It could even, possibly out law Hunting, which would be crazy... It is all about the Economy and it has nothing to do about the reality of Bigfoots / Sasquatch,
There is history of Bigfoot sightings in newspapers going back to the first documented sighting of a Bigfoot in a newspaper in Sackets Harbor, New York, 1818. They were seen on the East coast long before the West coast because the East coast was settled first by early settlers in ...
Marc DeWerth
of Columbia Station, Ohio has been a longtime Ohio Bigfoot Investigator since 1990 actively pursuing Bigfoot creatures throughout the country. He's been a longtime investigator with the BFRO (Bigfoot Field Researchers organization), and is the President of the Ohio Bigfoot Organization.
Currently Marc and his group, The Ohio Bigfoot Organization are the hosts of the Ohio Bigfoot Conference which is a nationally recognized event that takes place every spring at Salt Fork State Park. Their next conference is scheduled for May 20th, 2017. To learn more, go to OhioBigfootConference.org
Marc has interviewed over 200 witnesses that have claimed seeing a large, hair covered creature roaming the Ohio woodlands and has participated in many public and private Expeditions over the years. After many years in the field throughout Ohio and beyond, he's quite confident in the existence of Bigfoot.
Steve Kulls is the Founder/Director of Squatchdetective.com and the author of two books, Fifty Large and What Would Sasquatch Do?
Steve, a lifelong professional investigator and former licensed private investigator, has had a lifelong fascination with the Bigfoot phenomena since an early age. In 1998 after reading "Monsters of the Northwoods", Steve like many of the general population had believed that sightings were exclusive to the Pacific Northwest, learned that there were numerous sighting reports close to his residence in upstate New York.
In 2006 Steve had seen his first Sasquatch while in Texas and has had several other sightings to date, using his primate behavior models. Steve also is the Co-founder / Assistant Director and Demonologist of the Extreme Paranormal Encounter Response Team, located in Upstate New York, since 2013 and a Paranormal Investigator since 2010.
Steve firmly believes in a "boots on the ground", methodology of obtaining evidence for or against, evidence regarding the Sasquatch mystery. Steve has had three sightings in the last ten years and a handful of what he describes as "most likely, close encounters" with the creatures, after initially entering the field quite skeptical. Steve has appeared on numerous local news programs around the country and national venues such as Fox and Friends, and interviewed in print in over 100 newspapers over the last ten years.
Steve has appeared on the History Channel the National Geographic Channel, featured on several programs.."
Ronie Powell
Raised in an avid outdoor-loving family in upstate New York and spent much of her formative years in the wilds of the Adirondack Mountains and the remote areas of Eastern Canada fishing, hiking and exploring with her parents and two younger brothers.
Her interest in Sasquatch developed as a child when she and her father, an outdoorsman, hunter, fishermen & naturalist, spent many hours around campfires talking about the possibilities of there being an elusive creature such as this living in the wilds of North America.
Her entire world was shaken when she was privileged to see the Patterson Gimlin footage first hand, because she knew without a doubt that she was looking at a living breathing creature, and her desire to know more and to eventually be able to study these amazing beings was ignited.
Ronie has been actively researching the creatures we know as Sasquatch since 2006. As she often says, her area of research chose her when she responded to a desperate cry for help from a family that was having repeated interactions with a Sasquatch family group that they found overwhelming and frightening. While working with this family she began to notice behaviors and patterns that she would see over and over again while working on other habituation sites and habituations soon became her specialty.
Ronie has participated in or lead 20 plus research expeditions and well as numerous private trips over the past 10 years, and has talked to hundreds of witnesses. her ability to connect with people and her thoughtful approach to the research has served her well and brought her lifelong friendships throughout the Sasquatch research community.
Ronie is happily married to her best friend, Troy and they have a son, Cody, who is currently serving in the Army as a Warrant Officer and helicopter pilot. Ronie and Troy are also blessed with a daughter-in-law, Sarah, who often accompanies Ronie on research trips. Ronie and Troy live on a family farm in middle Tennessee. Ronie attended F.I.T. and retired after a long career as a Financial Analyst.
Sybilla Irwin:
Professional artist, BFRO Field researcher, and Witness sketch artist, Sybilla Irwin is dedicated to recreating what witnesses across the country have seen with a commitment to realism, accuracy and authenticity.
Sybilla grew up in the Lone Star State, receiving a BA degree from Texas A & M University. She has worked professionally in multiple mediums of art, including stained glass, sculpture, portraiture, and in media such as oil, watercolor and pastels. She taught art and special education in Texas for ten years.
Sybilla endeavors to bring life to the images that have been burned into the minds of the people she has worked with, along with a commitment to act as an advocate for the individuals who have had the fabric of their reality challenged by their experience.
In her new project, "Sketching Encounters", Sybilla will be traveling the U.S. meeting with witnesses, one-on-one, to recreate what they saw, illustrating their story with realistic images, and doing the supporting fieldwork. View Sybilla's artwork and Sketching Encounters at SybillaIrwin.com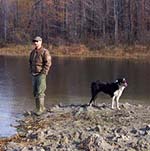 Paul Mateja has been actively involved with bigfoot/sasquatch research since 2004 and has personally investigated over 200 reports. He has attended or organized BFRO expeditions in New Mexico, New York, Pennsylvania, Ohio, Tennessee, and West Virginia. Paul currently concentrates his investigations to western New York State and western and north-central Pennsylvania. Paul is a network administrator and systems analyst/programmer for the Catholic Diocese of Buffalo, NY. In addition, Paul, wife Teresa, and son David own and operate a small certified-organic farm in western New York State.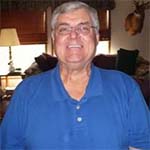 Doug Waller's interest in Bigfoot began in the 1970's when multiple sightings of a hairy ape type creature in Missouri, dubbed the Missouri Monster or Mo-Mo for short, were making headlines across the country. In the 1980's, Doug attended several Bigfoot meetings, which further sparked his interest. In 1992, he began employment with the Guernsey County Library in Cambridge, Ohio where he had access to the state-wide sharing consortium and was able to order almost any Bigfoot book he wanted. He read everything he could find on the subject and in 2006, along with a friend, decided to start doing his own field research.In 2008, he formed the Southeastern Ohio Society for Bigfoot Investigation, or SOSBI, for short. His organization meets the first Saturday of every other month at the Crossroads Branch of the Guernsey County Library in Cambridge, Ohio at 7:00 pm. The club also holds camp outs once a month every summer and fall from May through October at the primitive group campground in Salt Fork State Park.
SOSBI also conducts investigations into any reports sent to them and has been very active in educating the public to the best of their ability, through speaking at libraries, to school groups, at Boy Scout events, and conferences. In 2013, Doug published his first book, Standing in the Shadows: Bigfoot Stories from Southeastern Ohio.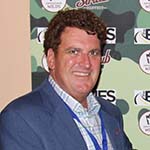 Peter Wiemer founded the Chautauqua Lake Bigfoot Expo in 2012 after having an interest in Bigfoots since 1980 and running special events in the area since 1981. Since creating the CLBF Expo in 2012 he is up to 22 eyewitnesses from Chautauqua County, eight from Cattaraugus County and more then a dozen from Warren County, PA that have contacted him in resolving themselves of knowing they saw a Bigfoot but were afraid to admit it publicly for fear of ridicule. Peter saw his first and only Bigfoot to date in December of 2014 between Clymer and Sherman, NY. Peter has become the local magnet for eyewitnesses to a Bigfoot sighting to contact here in Western New York and Western Pennsylvania and will talk about some of the sightings at the Expo.
In 2015, Peter, Joseph Glarner and Mark Robinault wrote, directed, produced and released a Bigfoot documentary movie called
I've Seen Bigfoot
and will be released on iTunes and Amazon very soon...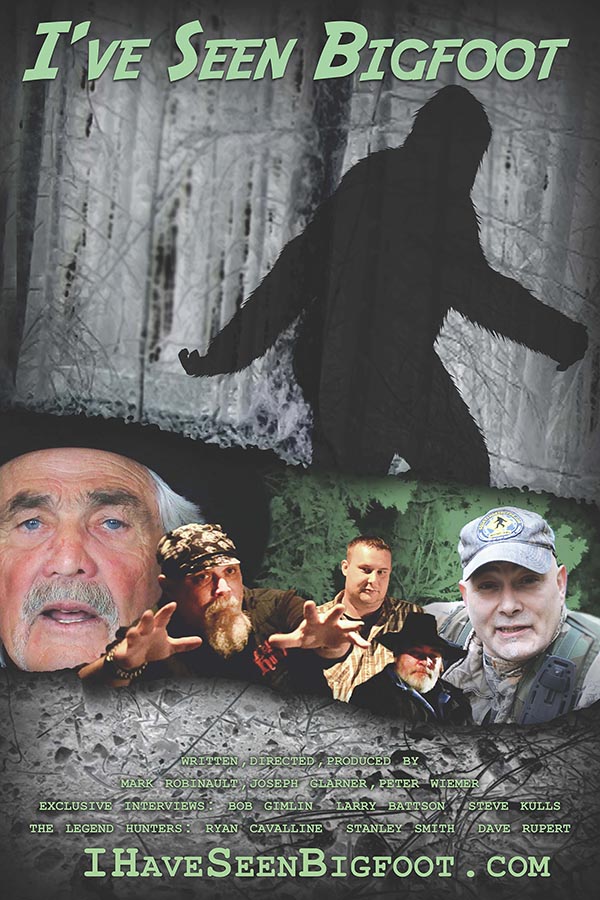 I've Seen Bigfoot

A Documentary Movie on People who have Seen a Bigfoot.

Available on DVD ($ 15 + Postage)

&

Blue Ray ($ 20 + Postage)

and soon, on iTunes & Amazon
Written, Produced and Filmed by,
Joseph Glarner, Mark Robinault & Peter Wiemer
Associated Press Chautauqua Lake Bigfoot News October 24th, 2015
New York Daily Chautauqua Lake Bigfoot News November 18th, 2015
The Jay Thomas Show on SIRIUSXM interview with Peter Wiemer
talking about Bigfoot, Milt The Talking Musky and more - November 19th, 2015

Trail Cam Pictures, 2014 from Allegany County, NY of two Bigfoots.
Bigfoot News:
Bigfoot "Buffalo News"....
Bigfoot "Cleveland News"...
Bigfoot News: National Bigfoot Center is hoping to come to Ripley, New York here in Chautauqua County as well as a International Tourism Information Gateway .
---
2013 Chautauqua Lake Bigfoot Expo Trailer

Video of Chautauqua County Bigfoot Witness, Mary Roller:

Steve Kulls Expo Segment:
(click on image to watch a 12 minute "Trailer" of Steve Kulls's 2012 CLBF Expo session)

2013 CLBF Photo Collection on Pinterest!
2013 Letter from New York State Senator, Catharine M. Young
---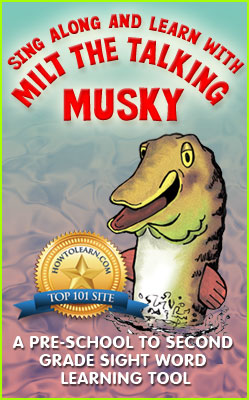 Return to WeWanChu › HomePage





© Copyright 2011 - 2016 We Wan Chu Cottages