The 2015 Chautauqua Lake Bigfoot Expo will be October 24th, 2015
at the YMCA Camp Onyahsa, Dewittville, New York
Steve Kulls, Paul Mateja and others will discuss and answer questions about Bigfoot evidence in New York, Pennsylvania, the Northeastern United States and elsewhere. Check here often to see updates or like us on Facebook to receive an update when we post there....
Adopt a Bigfoot to Protect Habitat from Chautauqua Watershed Conservancy.
---
Get your 2014 Tee Shirt
Tee Shirt Mail Order = $ 20 + $ 5.00 for First Class Mail USA orders.
International Orders = $ 20.00 + Postage ($?)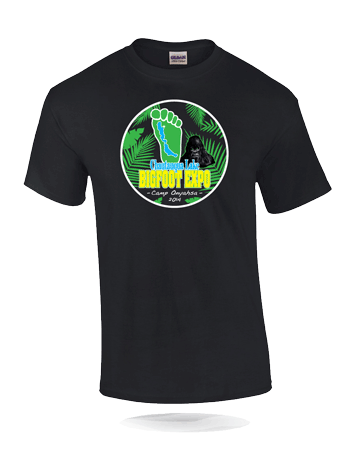 Press Release: September 17th, 2013
Please consider signing our online Petition requesting New York State Governor Cuomo and President Obama to include Sasquatch / Bigfoots on to the Endangered Species list.
---
---
Hello Everyone, my name is Peter Wiemer and I created the Chautauqua Lake Bigfoot (CLBF) Weekend & Expo as a Tourism Special Event to help bring in Tourism to Chautauqua County and to our family's business, We Wan Chu Cottages. Our 2012, 2013 and soon, the 2014 Chautauqua Lake Bigfoot Weekend & Expos are currently the only Bigfoot conventions in the World available as a Video On Demand... The 2013 CLBF Weekend & Expo saw special guest, then 82 year old Bob Gimlin from the famous 1967 Patterson - Gimlin Bigfoot film taken in Orleans, California. Bob spoke about his sighting and experiences on the only available video on demand... Here is the 2013 CLBF Trailer. The 2014 Chautauqua Lake Bigfoot Weekend & Expo was October 25th at the YMCA Camp Onyahsa on the shores of Chautauqua Lake, New York, with its Video On Demand coming soon. Plans are in the making for a 2015 CLBF Expo with more information coming soon.
Since creating and then promoting the Chautauqua Lake Bigfoot Expo in 2011, I have had 19 eyewitnesses to a Bigfoot sighting here in Chautauqua County, six from Cattaraugus County and more then six from Warren County, PA contact me either by person, by phone call or e-mail, resolving themselves of knowing they saw a Bigfoot with all but one wishing to remain anonymous. The one eyewitness to date who agreed to be identified is in our YouTube video below.

---
I did not bring Bigfoots to Chautauqua County, New York because they predated Christopher Columbus. I am bringing an awareness that Bigfoots are Real and Living in Peace and Harmony here in Chautauqua County as well as all over the North Eastern United States....
Bigfoots are not a Paranormal, they are for real. Bigfoots are as real as Panthers, Bears & Deer. Just because they are not seen by many who believe they should have seen one in the woods when hunting or hiking, doesn't make them not real. With more then 100 documented sightings in NYS and most recently the 18 eyewitnesses who resolved themselves to me in telling me their Bigfoot experience in Chautauqua County with one of them allowing us to document / record her convinces me that I don't need to see Bigfoots to know they are for real just like I don't need to see Panthers or Bears because we know they are for real too...
Learn from our four free videos below and hopefully decide to educate and entertain Yourselves for only $ 1.99 for the 2012 CLBF Expo (4+ hours) or $ 4.99 (10+ hours) for the 2013 CLBF Weekend & Expo which has Bob Gimlin as a special guest speaker from the famous 1967 "Patterson - Gimlin Bigfoot Film".
Enjoy... Peter Wiemer
---
Media: Press Images from 2013 Expo


Nearly 30% of Americans Believe in Bigfoots...
---
Bigfoot Speaking Engagements available for Clubs or Events by
Peter Wiemer and The Bigfoot Experience...
Check out our Facebook page for pictures and more.