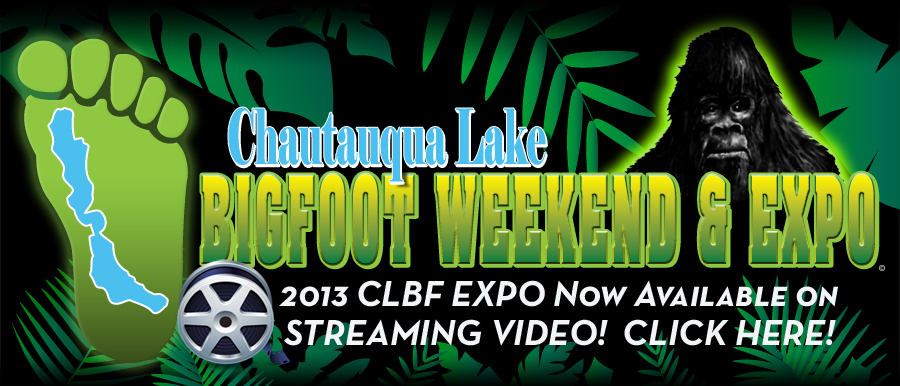 The Bigfoot Experience is coming to the Erie Sport & Travel Expo
February 28th, March 1st & 2nd, 2014 and then at
the WNY Sport & Travel Expo at the Hamburg Fair Grounds
March 6th - 9th, 2014
Bigfoot Speaking Engagements available for Clubs or Events by
Peter Wiemer and The Bigfoot Experience...
Check out our Facebook page for pictures and more.
2014 Chautauqua County Bigfoot / Sasquatch Expeditions
Press Release: September 17th, 2013

Media: Press Images from 2013 Expo


Nearly 30% of Americans Believe in Bigfoots...
Bigfoot News... October 8th, 2013
I created the Chautauqua Lake Bigfoot Weekend & Expo in 2011
as a Tourism Special Event to help bring in Tourism to Chautauqua County and
ultimately to our family's business, We Wan Chu Cottages. At that time, I had no idea that
there were Bigfoots living in Peace and Harmony here in Chautauqua County.
Since then I have had 16 eyewitnesses to a Bigfoot sighting here
in Chautauqua County come forward to me resolving themselves of knowing
they saw a Bigfoot here in Chautauqua County with all but one wishing to remain anonymous.
Bigfoots are not a Paranormal, they are for real... Bigfoots are as real as Panthers, Bear & Deer.
Just because they are not seen by many who believe they should have seen one in the woods
when hunting or hiking, doesn't make them not real. I have never seen a Panther or Bear yet in the
Woods. With hundreds before and most recently the 16 eyewitnesses
who resolved themselves to me in telling me their Bigfoot experience in Chautauqua
County convinces me that I don't need to see Bigfoots to know they are for real just like
I don't need to see Panthers or Bears because we know they are for real too...
Learn from our four free videos below and hopefully decide to educate and entertain Yourselves for only
$ 1.99 for the 2012 CLBF Expo (4+ hours) or $ 4.99 (10+ hours) for the 2013 CLBF Weekend & Expo which has
Bob Gimlin as a special guest speaker from the famous 1967 "Patterson - Gimlin Bigfoot Film"..
Enjoy... Peter Wiemer
2013 Chautauqua Lake Bigfoot Expo Trailer

Watch a 12 minute trailer of the 2012 CLBF Expo here!
Video of Chautauqua County Bigfoot Witness, Mary Roller:

10 minute YouTube video of Tom Yamarone's 2013 CLBF Expo's one hour session:

Steve Kulls Expo Segment:
(click on image to watch a 12 minute "Trailer" of Steve Kulls's 2012 CLBF Expo session)

New York State declares Bigfoots to be Mythical and does not exist anywhere in the World...!
2013 CLBF Photo Collection on Pinterest!
2013 Letter from New York State Senator, Catharine M. Young
Chautauqua Lake Bigfoot Friends
Continue to 2013 Chautauqua Lake Bigfoot Weekend & Expo Speakers & Agenda